I'm trying really hard to post these! I meant to do one at 36 weeks and now I'm even late for 37 weeks.
37 weeks and 3 days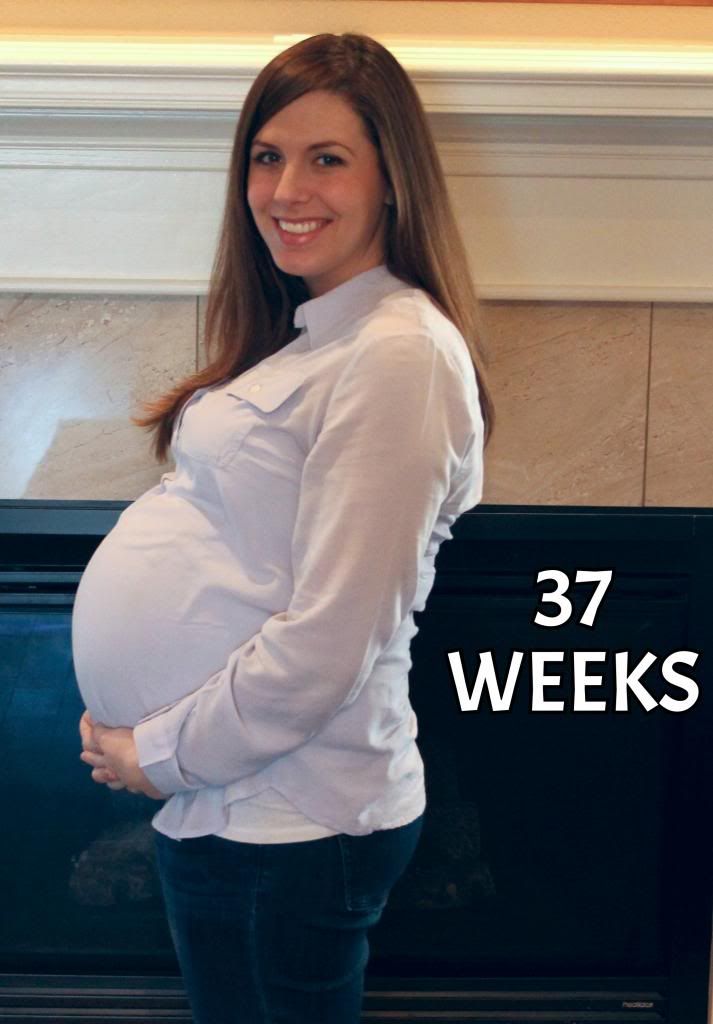 When I was pregnant with Maggie. I definitely look bigger last time!
How far along: 37 weeks
Size of Baby: 19.25 in & 6.3 lb
Fruit/vegetable comparison: Swiss Chard
Total weight gain: 11 lbs (Last time I was at 27 lbs!) I was definitely bigger last time I was pregnant but this baby is measuring slightly bigger than Maggie did. Go figure!
Sleep: The heartburn is getting a little better as I think she's been slowly dropping lower. But I feel like I get up more frequently to use the bathroom. Plus, this little one keeps me up with her movements.
Movement: Oh my word does this little girl move! Sometimes I wonder how she doesn't break my water with some of her jabs. The other day I bent over for something and she must have been under my ribs, and I thought I had bruised a bone! She's constantly poking out a body part. It really is fun to watch and feel for the most part. I was actually getting sad the other day that my time for feeling her move inside me was getting short. I really do enjoy being pregnant. But obviously it's an even greater joy once she's in my arms. :)
Unglamorous body changes: Luckily, I still haven't started swelling! I'm hoping that doesn't happen at all this time. I remember last time I couldn't wear my wedding ring and some shoes didn't even fit! Sometimes I feel like she's really low, and feel sharp lightening pains but then I think she floats back up. Whenever that happens I have a hard time walking, but other than that I'm feeling pretty normal. It's actually hard to believe that I'm at the end of this pregnancy!
What I miss:
Energy. I'm feeling pretty tired these days and usually try to fit in a nap. Last time I was pregnant I consistently craved chocolate milk, and this time around I've wanted chocolate pudding the whole time. They don't sell the "cook & serve" chocolate pudding here but luckily I have an amazing friend who gets it for me. Bless her!
Labor Signs: Adding this topic for this week! I'm really not feeling any labor signs yet. She has gotten lower in my belly which has allowed me to be able to eat more! Still having Braxton Hicks but that's really about it. I have a feeling that I could go past my due date again. Ugg. I have started drinking
red raspberry leaf tea again, but that's all I've really started doing. I know I need to take more walks and bounce on my
exercise ball but I know she will come when she's good & ready.
Best moment this week:
Spending time with Ryan's little sister, Sally, and her husband, Evan. They were here for two weeks and we went with them to London the last few days they were here. Missing them already! Since they left we started breaking out the baby gear. I have packed my hospital bag and a bag for baby sister (for the most part). I even have a few things ready to go just in case we need to drop Maggie off at our friend's house. We just need to install the carseat, and I would say we are mostly ready. I was really nervous about packing the hospital bag this time around because apparently in England you have to bring EVERYTHING! They really don't supply anything. I have to bring diapers and wipes (pretty much everything for the baby). Plus, all my "after care" stuff. I was racking my brain to remember what I was given last time and what I knew helped me. I think I'm covered now but I hope I didn't forget anything!
Looking forward to: My mom coming. She will get here January 18th, a few days before my due date and stay for 2 weeks. Then Ryan's parents are coming right after that to help out. So thankful for family!! I know we will need all the help we can get! I am just trying to soak up these last few weeks with Maggie before our lives are forever changed (for the better!).
Side note: I am planning to try to have another birth without an epidural. I've been trying to do exercises to get this little girl in the optimal position for birth so I hopefully won't have the back labor like I did last time. I'm not clinging to any ideas of a perfect birth. I just want a healthy baby in the end. Some good things about having a baby in the UK are, they have a few more natural options to help you through labor. It's pretty standard to have a birthing pool in every hospital, they have TENS machines and what they call "gas & air". I might try all those things this time around. You know I'll keep you posted on the birth story! ;)
I will try and post again at 39 weeks since I'm only 2 days off from being 38 weeks.