I'm posting this from America so my picture is kind of blurry. Ooops!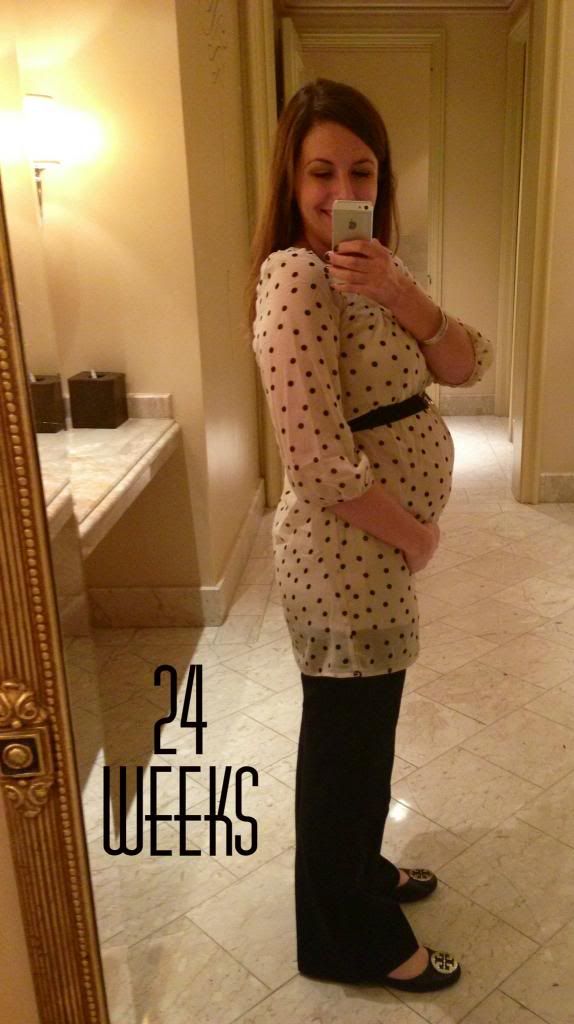 When I was pregnant with Maggie.
How far along:
24 weeks
Size of Baby:
12.5 in & 1.25 lb
Fruit/vegetable comparison:
Corn
Total weight gain:
1.5 pounds
(Last time at this week I had gained 8 lbs.)
Sleep:
Not too bad. We are still a little jet lagged from flying over to America. This little one does wake me up every now and then with some kicks if I've rolled too much onto my belly.
Movement:
Oh yes. This one is a mover and a shaker. I've felt her hiccupping a couple of times. One time she even had the hiccupps at the same time as Maggie. It was too funny. You can definitely see my belly moving around now when she's making bigger movements or harder kicks.
Showing:
I think I've officially "popped". I feel like I am really pregnant now, and have even had a few strangers ask me when I was due. Looking at the pictures above I think I'm carrying this one slightly lower than I did with Maggie. It definitely feels that way at least.
Food cravings:
American food. :)
Best moment this week:
Seeing all our family and friends on our visit home and showing off Maggie & baby sister. ;)
Looking forward to:
I've finally started to order a few things for this baby. It will be so weird to see another car seat and baby items arriving at our house. We are still trying to nail down a name. So hopefully that happens soon. I want to start ordering monogrammed clothing. Ha!!