(Sorry for radio silence. It's been pretty hectic around these parts!)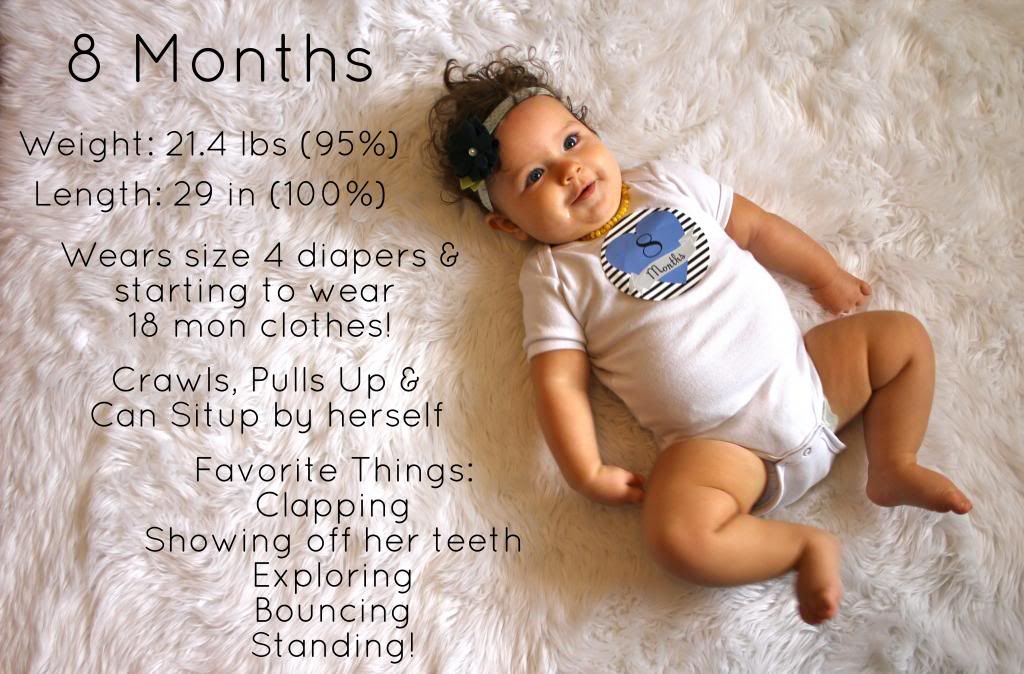 (I am having to turn her at an angle now as she doesn't really fit on the rug anymore!)
I forgot to mention in the photo above that she is finally down to two naps a day! She started to go that way around daylight savings time but than that threw her off. Shortly before she turned 8 months though, she did officially transition to two naps. :)
My (not so) little girl is growing up so fast! This past month has been another favorite. It was jammed packed with family, friends and new experiences. Maggie experienced her first Halloween, celebrated her daddy's 31st birthday, traveled to Kansas City & Ryan's home town, and officially started to prepare for our move to England!
She is also rapidly turning into a daddy's girl. If he's home, he is the only person she wants. If anyone else (including me) tries to hold her, she starts to fuss. She loves him so much. It truly fills my heart to the brim to watch these two together. He loves to be the one to get her in the mornings and also the one to put her to sleep. I have a feeling that these two are going to be trouble makers together when she gets older. Ha!
This last month felt like a big one to me with a lot of milestones reached. She is really starting to perfect her crawling, slow but getting there. She's learned to pull up and sit up all on her own. Now all she wants to do is stand and "walk" with our help. It really feels like she is learning something and growing stronger every single day. I am constantly amazed. It seems like out of the blue she learned to clap and it's quickly become her favorite thing to do. Her personality is also rapidly developing, and I am loving it! She is just the sweetest thing (when she's not fussing). Ha!
It's getting harder each month to get pictures of her. She is one busy girl!
Not having it!
Love her little expressions.
Just a few pics from this last month.
Checking out my cousin, Josh's, beard. It's so funny how she stares at people she doesn't know.
Love this one of her and her Great Grandma.
Playing with her bff, Greta.
Hanging out at the "crib".
Having a stare off with another future bff, Claire.
She may have been born in Oklahoma but her roots will always be in Kansas!
Lovin' on her Great Grandpa.
This is how she rolls these days. Just stick what you want to take with you in your mouth and go!
Here are a couple of cute videos from this last month.