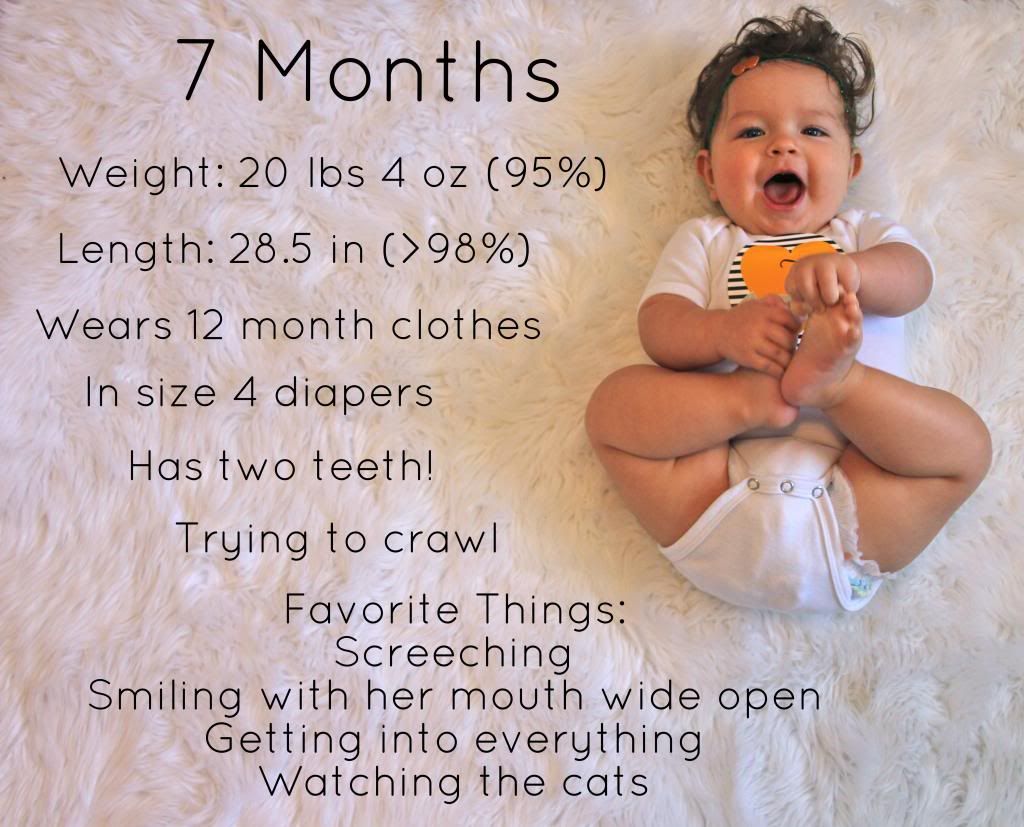 It's hard to believe that my baby is now closer to being a one year old than being a newborn! People weren't joking when they said babies grow up fast. Now I understand why parents are anxious to have another one. (No, I am not there yet!)
This month was a big one and again my favorite stage so far. She is really becoming so interactive and loves to smile & laugh at us. She makes this sweetest sound like "Haaaa Haaaa" in a high pitch voice. Maggie is even starting to mimic us. I absolutely LOVE seeing her little personality develop.
Her bottom two teeth broke through at the same time this past month. It really wasn't bad at all. In fact, I didn't even know they were coming in until I just saw them one day! I guess
this
teething necklace really works. ;) She has also become somewhat mobile. She will move all around her play mat by either turning in circles or pushing herself backwards. Mag's will push herself backward all over our living room. She still hasn't quite figured out how to go forward yet, but she's getting really close. I am so not ready to start chasing her around the house or baby proofing everything. Ha! Oh, and her hair is finally starting to fill in on the back of her head. So hopefully she won't look like she's wearing a toupee much longer. ;) Wear did my little baby go?!
I am really enjoying spending my days with this little girl. Looking forward to so many more!
I could not get her to smile this month. She was way too distracted by everything around her. Plus, she had a little bit of a runny nose. Luckily, (knock on wood) she has not had a full blown cold yet!
Blank stare
There we go.
Very interested in the bunny this month.
I just love her little profile. I hope it doesn't change!
Her favorite thing to do...
Here are just a few snapshots from this past month. Most of the time I just take pictures on instagram.
My favorite bath towel.
Playing around with my camera settings. I need to get better at it!
This past weekend Ryan & I went to a Chiefs game, so of course I had to dress these two alike!
LOVE!!!
Maggie is so lucky to have him for her daddy.
Visiting Maggie's Great Grandmother and hanging out with cousin Kathy.
Here's a little video of Maggie's famous screeches. Half way through I couldn't stop myself from laughing, and I totally startled her which made me laugh even harder. She startles pretty easily. LOVE this girl!!
Can't get enough of her.