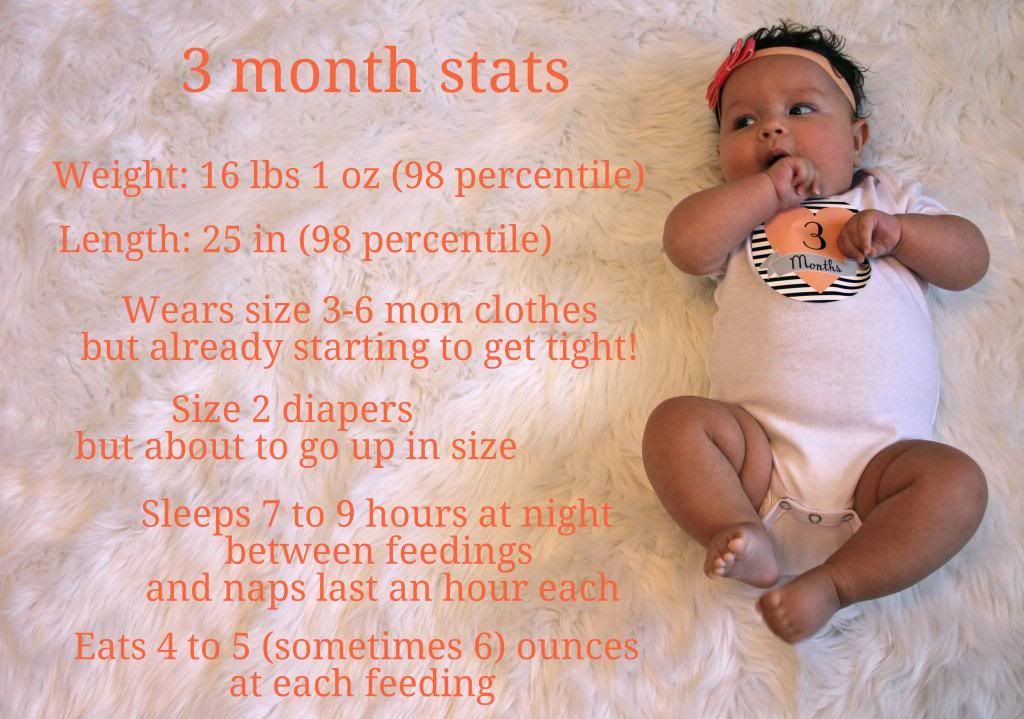 (3 months old this past Sunday)
I really can't believe my "newborn" baby is already a fourth of the way through her first year of life! Time is going way too fast. Please slow down!
This past month was a little rough on us. After Maggie had her first round of shots, it seemed like she was a different baby over night. All of a sudden she went back to sleeping only 3 hours at a time at night, way more fussy and needing to be entertained at all times! I felt like I couldn't leave the house anymore without her having a melt down. Yikes! Luckily, this past week it seems like we've turned a corner, and I'm getting my easy baby back. I'm still trying to figure out how to get her to sleep 12 hours at a time at night. We also are not on any kind of routine except trying to put her to bed around 8 pm. I try to stick with the eat, play, sleep method at 3 hour intervals but it just seems like it makes her really fussy when I try to force her on a schedule. So now I'm just feeding her on demand and putting her down for a nap when she shows signs of being tired. She can stay awake about an hour and a half before she gets fussy. Have any of you guys experienced this? What is/was your schedule for a baby around this age? I love a good schedule so this is kind of throwing me off. Any thoughts or suggestions on eating, schedules and sleeping would be great!
Now for her monthly pictures!
I swear she's happy here! She's not really to a point where she can smile on demand yet. Maybe next month?
Daddy was trying to help me get her to look at me for the photos, and this was the best we got. Ha! In other news, Mags is starting to roll over from her back to her front. I was changing her in a restroom the other day and when I turned to throw away the diaper she had rolled to her side. It scared the crap out of me because she was so close to the edge! She also did a complete roll in bed with dad the other day, and of course I missed it. No more leaving this girl unattended!