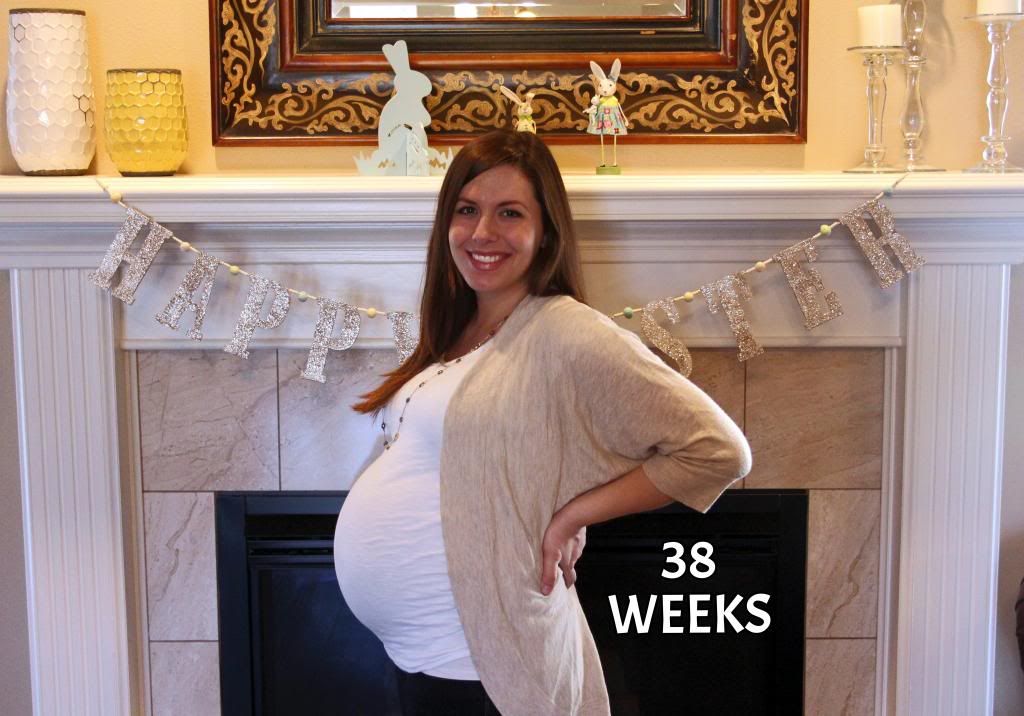 Size of Baby:
19.75 in & 6.8 lb
Fruit/vegetable comparison:
Leek
Total weight gain:
28 lbs
Sleep: This has been getting a little harder as I've gotten bigger. I have to get up to go to the restroom a lot more now. I also have to be careful when I turn over or else I'll tweak my back or pull something in my belly. And unfortunatelly, my hips hurt if I'm on one side too long.
Movement:
She's still pretty active. There are some days where she's a little more quiet, but most days I can feel what I think is an elbow or heal running up and down my belly. Sometimes I wonder how she doesn't break my water with some of her bigger movements. Ha!
Unglamorous body changes:
I've definitely started the pregnancy waddle! I thought I might avoid this but I guess it was unavoidable. :) I'm also having a harder time putting shoes on and have to ask Ryan for help a lot of times now. This week I decided to take a little more advantage of this pregnancy thing and started asking Ryan more often to get me things. That man is a saint! Ha!!
What I miss:
Still just missing my energy level. I've also started to miss running an
d the feeling that you get when you want to try & get back into shape. I'll definitely be looking forward to getting my body back.
Milestones:
She may have about an inch or so of hair already. She's slowly shedding that white goo on her skin (called vernix caseosa) but you might see some of it at birth.
(the bump.com)
Labor Signs: Definitely feeling more Braxton Hicks and soreness in my pelvic area. I went on a three mile walk yesterday and thought I was going to die that last mile. I think I might just stick with 2 miles from here on out because my pelvis was so sore today! The doctor said I was 1 cm dialated but my cervix was still thick. She thinks I will most likely go past my due date. :( I've started taking a higher dose of primrose oil, added two bags for my red leaf tea and have been eating a lot of pinnapple. I'm sure none of that will actually do anything but it makes me feel like I'm doing something.
Best moment this week:
So many things! My friends Rob & Jess had their sweet baby boy, Ronan, this past Tuesday and he is perfect! She was the last of my friends that was due before me so now it feels really weird that I'm supposed to be the next that goes. Eeek! You guys are going to think I'm crazy but Ryan & I made the decision to switch doctors/hospitals at 38 weeks. We really wanted to give birth at Bailey Medical Center in Owasso, OK and have a certain Dr. there be our OB but unfortunatelly they didn't accept our insurance. Well, we just found out that they are now taking our insurance, and we were not completely comfortable with the doctor we had. So we made the leap of faith this week. We met with her yesterday and she's amazing! She was very supportive of the Bradley Method. I really felt a peace about it and was so thankful she would take me on as a patient this late in the game. Sometimes you just have to go with your gut.
Looking forward to:
This little lady getting here! For some reason hitting 38 weeks has now made me impatient for her arrival. I'm just so ready to meet her. I'm also meeting with a photographer tomorrow to discuss newborn pictures!! I'm really excited for this. I feel like I still have a lot of organizing to do around the house but the nursery is almost completed. I'm hopefully that we'll get the last couple of things hung this week and then I can share pictures!
Updates:
I posted a few weeks back on my IG account about my friend Emily's dad who had heart surgery that didn't go well. I just wanted to update anyone that prayed for him that his heart did start pumping on it's own!!! This was truly a miracle as the doctor said he was the sickest of the sick and didn't think he was going to make it. Thank you for everyone that lifted this family up in your prayers. God listened!!
I also wanted to update everybody on our first born fur baby, KC. He had an 18 week follow up on his leg where they x-rayed it. Good news is there is no signs of the bone infection the bad news is the bone has become partially displaced again. He's not putting a lot of weight on it right now. The doctor thinks that if we give it a few more months that scare tissue will form and help to stabilize the leg. If not, he will need to under go another major surgery to fuse the leg so it can no longer bend. I hope we can avoid this but at the same time I don't want him to be in pain. I just can't believe that we are still having to deal with this and I feel so bad for little KC. I think we are going to try and get a second opinion.
Last thing I wanted to tell you guys about was Maggie's first St. Patty's Day outfit! I just realized a week or so ago that there is a possibility that she might be here in time for this holiday, and I at least needed one outfit just in case. (However, now I don't think she'll be here in time.)
I'm glad I didn't get one that said St. Patrick's Day because if she's late then I can just say the clover means she's my lucky baby. Ha! If anybody's interested I got this at the cutest Etsy shop
here
.