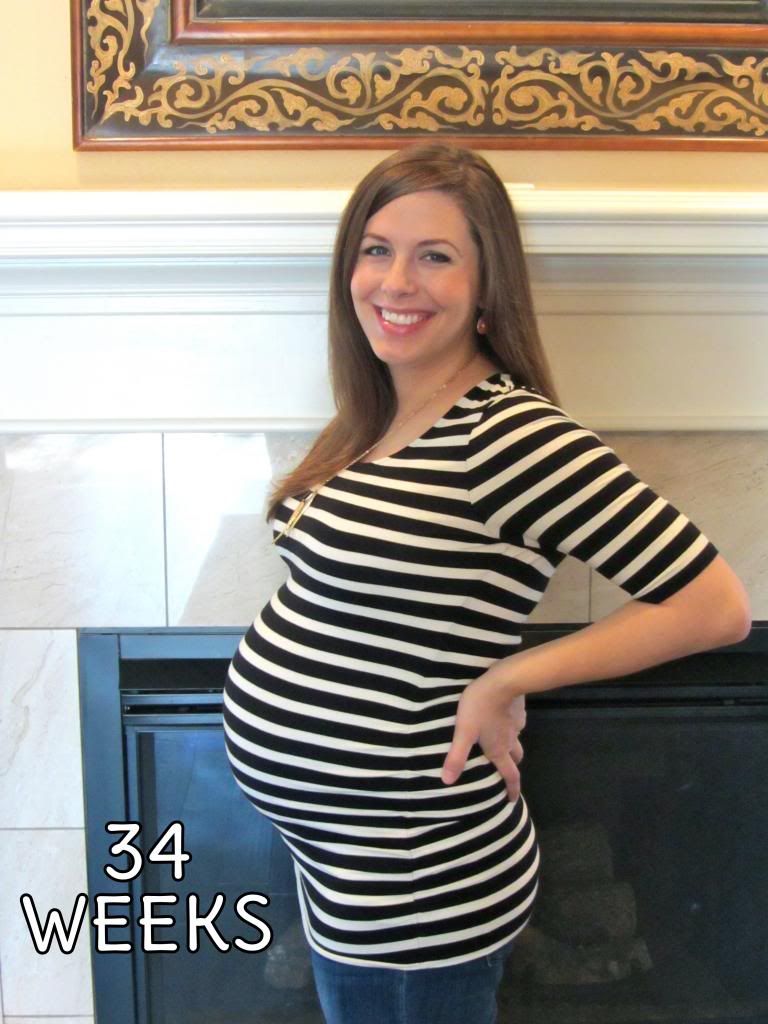 Photobucket totally changed their format and no longer has the font I was using for my weekly pictures! :(
This photo cracked me up! I always have to look in the guest bathroom mirror to make sure I don't look crazy before Ryan takes my picture. And Ryan decided to snap a picture of the primping, and that warrented me to give him the "look". Ha!

How far along:
34 weeks
Size of Baby:
17.75 in & 4.75 lb
Fruit/vegetable comparison:
Cantaloupe
Total weight gain:
24 pounds
Sleep:
This has been better! I figured out that I needed a thicker pillow between my legs to help support my hips and lower back, and that has made all the difference. I have not had any back pain since. Woo Hoo! I still wake up with heartburn but there are some nights where I can almost sleep through the night. That's a huge praise!
Movement:
She definitely has her active and slower days. There was one night where I had the remote on top of my belly and she was kicking so hard that it was bouncing the remote all over. Ryan & I could not stop laughing! There have been a few times now that she's kicked so hard that it gave me a little jolt and sort of hurt. But nothing too bad.
Unglamorous body changes:
Heartburn, and I'm starting to get pretty tired at night. When it gets to be around 8:30 pm I'm struggling to stay awake. Definitely losing energy at night.
What I miss:
Not too much
this week. I really wanted a hotdog that I saw at a super bowl party. Ha!
Milestones:
Sh
e's recognizing and reacting to simple songs, if you're singing them. (If you're not, start! She may find them soothing after birth.) Sh
e's also urinating about a pint a day.
(thebump.com)
Best moment this week:
We made a little more progress in the nursery! Ryan's almost finished with the dresser which I'm absolutely in love with. I can't wait to show you guys pictures! I also organized a bit more and ran a few errands. I'm trying to stock up on everything I'm going to need for labor after getting a few tips from friends that have just recently went through it. I'll have to get a post together soon of everything they told me. I also forgot to mention that we preregistered at our hospital a few Fridays back. That feels so good to be done with that.
Looking forward to:
Ryan & I have this Friday off and we are headed to Kansas City for the last time before Maggie comes. Ahhhh!! My mom is throwing me a baby shower for my side of the family, and I'm so excited to see everybody. It seems like it's been forever for some of them. My Godmother is even coming up from Dallas to help out. Can't wait!
I'm finally posting pictures from our trip back to Ryan's home town last weekend. This was our last time being there without Maggie. So crazy!! (Pictures taken with my camera phone.)
Emily, Sean (covered up), Susan, Harlan, Evan, Sally, Papa & Ryan
We were celebrating 3 birthdays including Emily, Harlan and Papa. It was so fun to have everybody together. That rarely happens these days.
Papa opening our gift.
We got him a nice sweatshirt polo and Ryan spotted a gag gifted called the Wrongulator. It's a calculator that will always give you the wrong answer. Totally up Papa's alley. ;)
Harlan got a few gifts from us including tow rope that he really wanted.
And Emily got a gift card to GAP for some clothes. Love this pic!
Susan with her famous chocolate cake. This was the star of the night. Mmmm.... Maggie really appreciated it. :)