8 Months Along!!!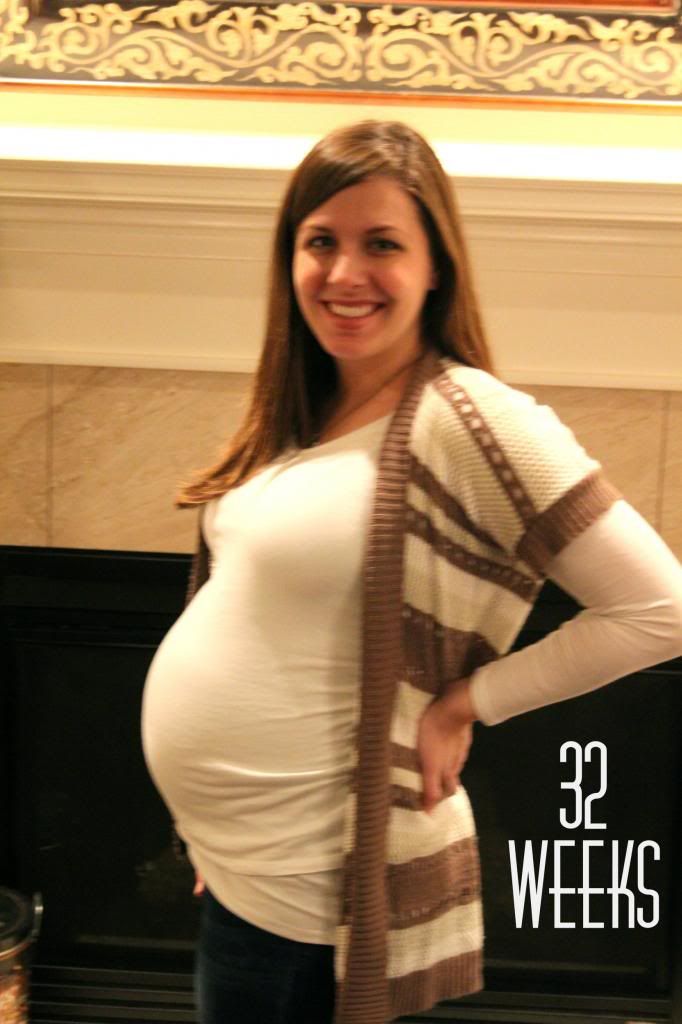 (Looking pretty tired after a full day of work.)
How far along:
32 weeks
Size of Baby:
16.7 in & 3.75 lb
Fruit/vegetable comparison:
Large Jicama
Total weight gain:
23 pounds
Sleep:
This is better then it was but definitely still toss & turn at night. The heartburn is still better which means I sleep better. The main complaint here is just getting sore hips if I stay in one position too long.
Movement:
She definitely makes her presence known. :) I still wouldn't say she's probably the most active baby compared to what I've heard others talk about. And it's still never really hurts when she kicks or punches. I also read that at 32 weeks is their peak in movement because after that they just get really squished & can't move around as easily.
Unglamorous body changes:
I gave in and ordered two more pairs of work maternity pants that are full belly panels. I figured it would be worth it to not be uncomfortable at work for the next two months. I've definitely been noticing more swelling lately in my feet and ankles. Some days are better then others.
What I miss:
Sleeping through the night and having more energy
Milestones:
She's getting ready for her descent -- she's likely in the head-down position now.
And she's probably feeling a even more cramped.
(thebump.com)
Best moment this week:
Finding out she's head down in our follow up 3D ultrasound!! We went back again this past weekend for a follow up ultrasound since her feet & hands were blocking her face last time. When the lady put the probe on my stomach & told me she was head down I about peed my pants with excitement! Hopefully she stays that way now. :) Maggie was also awake and making the cutest faces ever. I posted some of the pictures below. Ryan & I also had a nice relaxing weekend which has been the first one in a can't remember. He did make me go on several long walks. I know I need to do more of that plus the weather was so gorgeous.
Side note: I also moved offices/buildings at work and am now in my husband's building (different floors). This is the first time we've ever worked in the same building since I started working for the same company as him 6 years ago!
Looking forward to:
Traveling to Ryan's home town this weekend to see family and celebrate a bunch of birthdays coming up. Ryan's dad, sister and grandpa all have birthdays within pretty much a week of each other. Our rocker is finally being delivered this week after ordering it back in November. Geez! That was the last major piece we were waiting on. Ryan's parents gave us an antique dresser that we are debating about painting. If we decide to give it a fresh coat of paint that will happen this week too. I'm so ready for this nursery to be done!
P.S. That baby ticker in the right hand column is getting freaking close to the end. Whaaa?!
Her eyes are open here.
She's getting so chubby! Look at those little cheeks. I can't wait to squeeze them.
Here she is sucking on her bottom lip. And check out that double chin!
She kept trying to suck on her hand or the back of her arm. Hopefully that means she will take a pacifier. I definitely didn't when I was a baby.
Here she is sticking out her tongue. She kept opening her mouth, and I'm pretty sure we saw her yawn too. I just can't wait to see this little girl in person. Counting down the days!