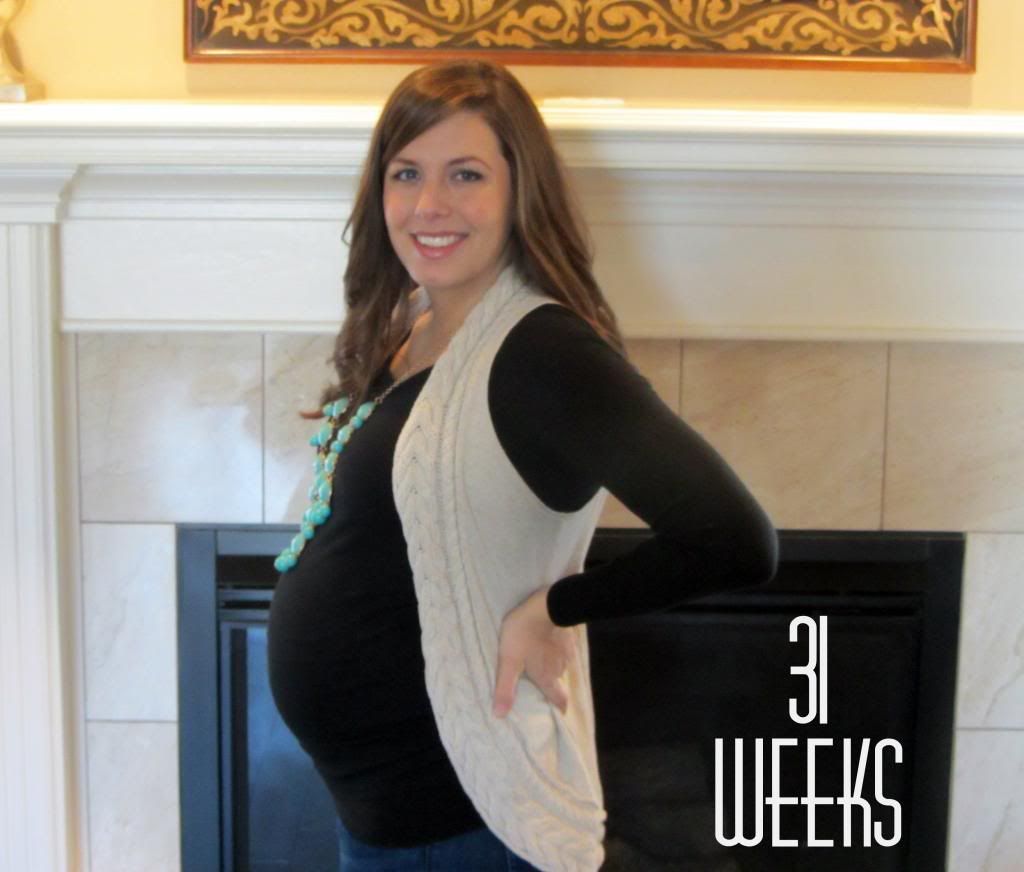 How far along:
31 weeks
Size of Baby:
16.25 in & 3.3 lb
Fruit/vegetable comparison:
Four navel oranges
Total weight gain:
22 pounds
Sleep:
This has been better! Maybe that peppermint tea is working. I still have some heartburn but not nearly as bad as it's been. Now I'll just wake up if I move quickly and it feels like I pulled a lower ab muscle. It hurts!
Movement:
Still just feeling little punches, kicks and twitches. I haven't felt any hiccups yet or any full body turns that I know of. Next Saturday we go back for a 3D follow up and we'll see if she's shifted positions at all.
Unglamorous body changes:
Besides some heartburn (story of my life)... I've definitely been really out of breath a lot lately. It's pretty comical because if I get to talking a lot I will start to huff and puff. People just look at me funny. The other day I was on a phone call with someone at work, and I started breathing heavy and he asked if I was ok. I said, "I'm SORRY, but she's on top of my lungs!". It's now a joke around the office. I've also noticed that my legs and ankles are definitely starting to swell now. Some of my shoes are feeling pretty tight. Boo! I've got to drink more water!! AND some of my maternity pants are getting pretty tight and I still have two more months to go. Eeek! No clue what I'm going to do about that one.
What I miss:
I know that I talk a lot about the different symptoms I experience but I really don't want it to come off like I'm complaining. I just want to document some of this stuff for me to look back and remember it during (hopefully) future pregnancies. I'm so thankful to be where we are today and am not taking any of it for granted. I'm really trying to soak up everyday and not wanting to rush any of it. I really want Maggie to be here safe and sound but I know I need to enjoy the entire process.
Milestones:
She's going through major brain, nerve development and eye development, too. Her irises now react to light! All five of his senses are in working order. (thebump.com)
Best moment this week:
Ryan finally finished the moldings in the nursery! We can now finally start to put things together. I'll try to post a little sneak peek picture of it later this week. My sister-in-law and her husband came to visit this past weekend, and we had fun just hanging around the house staying warm. I also had a little friends shower here in Bartlesville on Sunday that was so much fun. More on that to come!
Looking forward to:
Finishing the nursery! We still have so many little things to do. So I imagine it's still going to take us awhile but we're getting closer. I'm also looking forward to having one weekend with hardly any plans. We are going to see Maggie again at a follow up appointment on Saturday but that is our only plan. Looking forward to relaxing.
Sean & Emily from this weekend.
Here's a little video of some of the madness that went on this weekend. Ryan's loves to pull this game out on people.
Luckily I was pregnant and did not have to participate. Ha!