Happy New Years! I think everyone knows why I'm so excited for this year to be here. ;)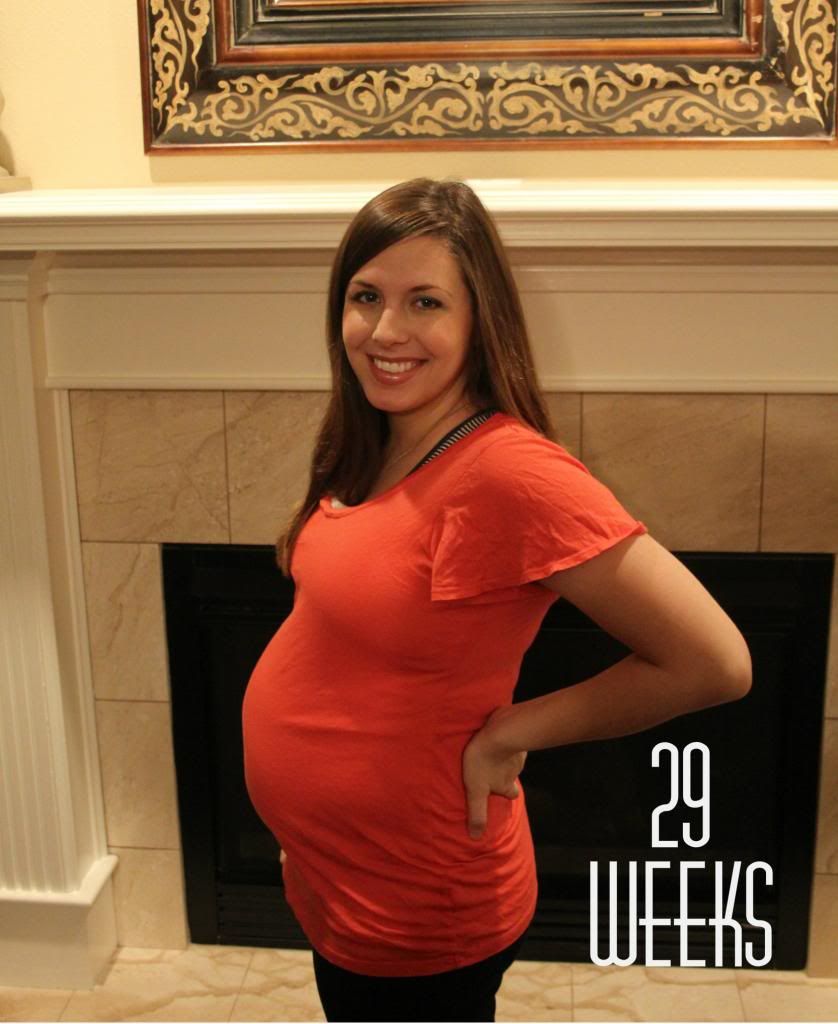 Christmas decorations put away and one step closer to Maggie's arrival. So crazy that the next time I'll be pulling those out she'll be there with me!
How far along:
29 weeks
Size of Baby:
15.25 in & 2.5 lb
Fruit/vegetable comparison:
Butternut Squash
Total weight gain:
17 pounds (stayed the same weight which is shocking with all the food I ate at Christmas!)
Sleep:
Ugg... This has been rough. If I'm not waking up to heartburn, it's been having to pee, my hip is sore from sleeping on one side too long, sneezing or just restless. Poor Ryan, I've been keeping him up along with me. Every time I chomp on a tums in the middle of the night it startles him awake. Ha!
Movement:
She's still pretty mellow but I definitely feel multiple kicks/punches at once. In fact, I've felt movement that feels more like twitching like rapid fire kicking. It doesn't hurt but it's so strange. How can a baby move that fast? Anyone else experience this??
Unglamorous body changes:
Heartburn, heartburn, heartburn. Not much more to report on! My energy level gets depleted pretty fast these days and will get sleepy really early in the evening. But it's probably mainly due to the fact that I'm not sleeping as well. If I've had a really busy day I'll start to feel a little sore in my back and hips like I've worked out too much, but that hasn't been that bad.
Showing:
Yep! I think I might take this off going forward because it's pretty much the same answer every week now. Ha!
Food cravings:
I feel like I've been really lame on this topic. For some reason I just really haven't had any food cravings most of this pregnancy. Apparently I'm weird. I might leave this topic off going forward too unless I really do have a food craving pop up.
What I miss:
Being able to sleep through the night.
Milestones:
She's getting a little cramped in there, since she's growing so fast. She's growing white fat deposits under her skin, and her energy is surging because of it. The baby might be hiccuping too. (thebump.com)
Best moment this week:
I forgot to mention last week that we took a day to interview a couple pediatricians and visited three daycare facilities. We really found that to be beneficial. We nailed down the pediatrician that we feel fits best with our personalities and narrowed down our daycare between two that we feel comfortable with. Here's hoping they have a spot open for us when I go back to work! We finally finished our Bradley Method classes, and we actually hired our educator to be our Doula. I'll have to post more about that later. Now, that I am in the third trimester I have to see my doctor every other week instead of monthly. It's so crazy how fast that happened. I couldn't believe it when he told me that. We finally ordered the rest of the nursery furniture this week and we are doing the finishing touches on the wall moldings. As soon as that's done I'll post an update on the nursery. It's still far from finished so don't expect too much! Speaking of nurseries, you have to go check out my best friend's completed nursery. It is so freaking cute. Go
here
to see it.
Looking forward to:
My second shower this weekend. My in-laws are throwing me this shower for Ryan's family. I'm so excited to see everybody. It's been awhile since we've all been together. We are also having our maternity pictures done that weekend. I'm a little nervous because it will be outside so I know that I'm going to be freezing! Hopefully they turn out ok.
Anybody want to sign up to take my weekly pictures? I swear Ryan tries to get the most awkward picture of me every time I twist his arm to take the picture. Ha! He doesn't understand that even though I'm pregnant there is still a way to make me look skinny! lol