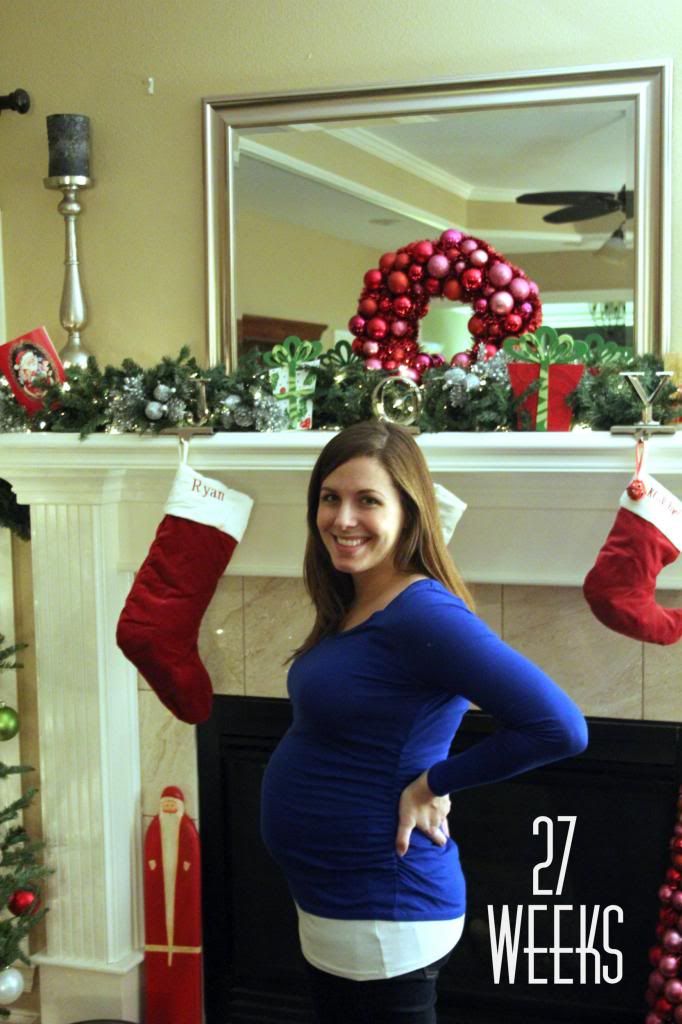 How far along: 27 weeks
Size of Baby:
14.5 in & 2 lb
Fruit/vegetable comparison:
Cauliflower
Total weight gain:
16 pounds (All this holiday food is killing me!)
Sleep:
Heartburn or acid reflux usually wakes me up at least once a night now. I sleep mainly propped up on pillows which means I'm not able to sleep as well because I'm in that position. I'm getting pretty tired again but I think it's mainly because I'm not sleeping well.
Movement:
This week I felt her kicking (or punching??) close to my ribs on the right side so I put my hand there. After a few seconds of having my hand there I felt something really firm roll across my fingers! I think it might have been a foot but it was the weirdest feeling but so cool!
Unglamorous body changes:
HEARTBURN! I ran out of milk last week and couldn't get to the store so I think that made things worse. I'm also starting to get tired again like my first trimester but I can't decide if that has to do with the fact that I'm not sleeping well and/or I'm over doing it.
Showing:
Yep, strangers are starting to be nicer to me. They are opening doors or letting me walk through an elevator first. It's too funny! I'm so not used to that.
Food cravings:
Anything sweet or chocolate milk still. Not good for the weight gain and the holiday season isn't helping anything either!
What I miss:
I miss being able to run around all day and not get winded or tired as easily.
Milestones:
She's practicing inhaling and exhaling with her rapidly developing lungs. It's official: Baby's showing brain activity! And her brain will keep on getting more complex. (thebump.com)
Best moment this week:
I had my first baby shower! My friend, Kara, & her mom, Vicky, hosted the party and they completely out did themselves. I will be posting about it shortly but I have to get some pictures from a few friends. It was so fun to bring all the goodies home and start putting things away. :) I'm also now officially in my third trimester. So crazy!!
Looking forward to:
This week is going to be a busy but really fun baby week. Ryan & I are meeting with a couple of pediatricians to interview, tours three child care facilities, monthly OB check up and we have a 3D ultrasound this Saturday! My mom & Ryan's mom are coming down for it, and then staying through Christmas to help us prepare for the rest of the family to come. It's going to be an exciting week!