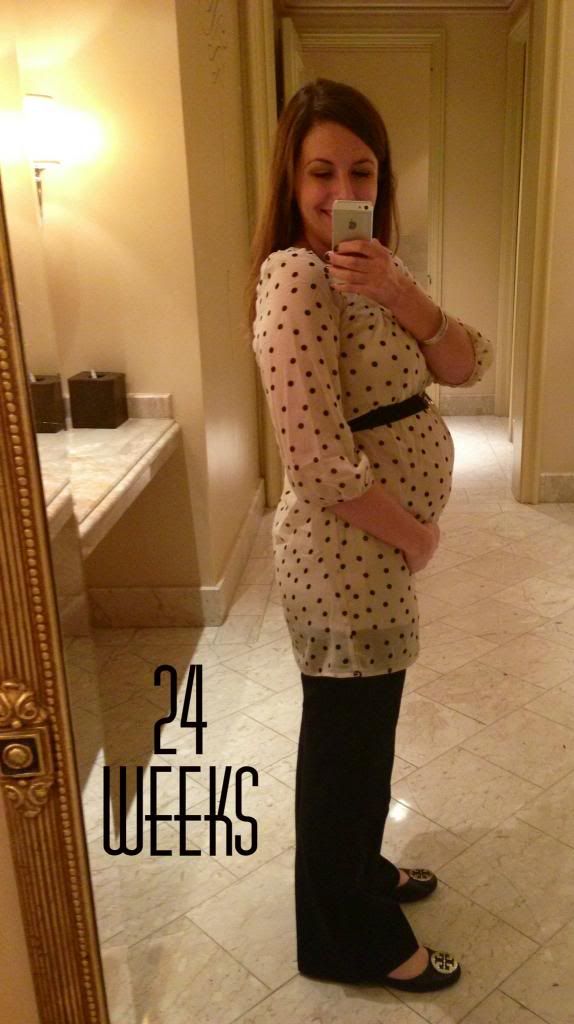 (In the bathroom at the Four Seasons in Beverly Hills. Ha!)
How far along:
24 weeks
Size of Baby:
12.5 in & 1.25 lb
Fruit/vegetable comparison:
Corn
Total weight gain:
8 pounds
Sleep:
Still a little restless. I can't sleep on one side for too long before I need to switch sides.
Movement:
I asked my doctor about starting to count kicks and he said I could now. He said the baby should kick 6 times within an hour, and to try & chose a time when I know she's usually active. When I started to pay attention to her movements I didn't realize how much I actually feel her throughout the day. I don't think there's anything to worry about as long as I feel her at least some each day.
Unglamorous body changes:
Still dealing with some hip pain but not near as bad as it was last week. I've been really paying attention to not crossing my legs and trying to sleep in a good position.
Showing:
I've had a few strangers ask me when I'm due this week. One even asked if I was 8 months along! I told her no and she tried to recover by saying "Oh, well you just carry high". Ugh... oh well.
Food cravings:
My sister-in-law made homemade cookies this weekend, and I really wanted some cookie dough. That was so hard!! I think that's the first thing I'll make after the baby's born and then I can lick the bowl. :)
What I miss:
Not too much this week.
Milestones:
Her brain is growing quickly now, and taste buds are continuing to develop. Her lungs are developing "branches" of the respiratory "tree" as well as cells that produce surfactant, a substance that will help air sacs in the lungs inflate once she's born. (Babycenter)
Best moment this week:
Spending time with family at Thanksgiving and stuffing my face with wonder food. Ryan also got the first coat of paint up on the nursery. I haven't seen it in person yet since I'm traveling for work right now. Can't wait to see!!
Looking forward to:
Getting the furniture in that we ordered and picking out more items for the nursery. And I have my first baby shower coming up in a few weeks!