Mother's Day weekend was a whirlwind of hard work and equal parts fun! It started off Friday night with taking my MIL, Susan, to dinner at one of our fav Mexican restaurants and then to see the movie Lincoln Lawyer (really good!). I'm so disappointed I didn't get any "Mother's Day" pictures of Ryan & his mom. :(
Saturday morning we woke up early to go help out at a church event but then found out we weren't needed. So then we just ended up working on our house for awhile and putting up some pendant lights in the kitchen. Afterward, Ryan & I headed over to Jeremy & Melissa's house to help paint their wood trim white in three bedrooms and two bathrooms! I think it worked out in our favor though because they made us delicious shish kabobs for lunch. Once that was wrapped up we headed to the local nursery for flowers and then home to plant. We ended up working in the yard until 8 that night! We planted all kinds of goodies in our vegetable garden. I promise to take pictures soon of that and our other flower beds.
Finally, Sunday was a jam packed day. It started with Ryan & I becoming members at our church,
Leawood Presbyterian
. Yipee!! We are so excited to finally belong to a church again and really get involved. My mom came to see us become members, and then afterward we took her out to eat at her favorite brunch spot, First Watch. We gave my mom a choice of either going to explore at an arboretum or have Ryan & I help her out with her yard work. I already new which one she was going to pick! I don't know why we even gave her a choice. Ha! We put in a couple hours of hard labor, laid 600 lbs of mulch and planted flowers. My mom kept saying this was her favorite Mother's Day ever. Then we went home to finish our yard work and put together some new patio furniture. We rewarded ourselves with some Dairy Queen once we were finished. Man, were we sore on Monday!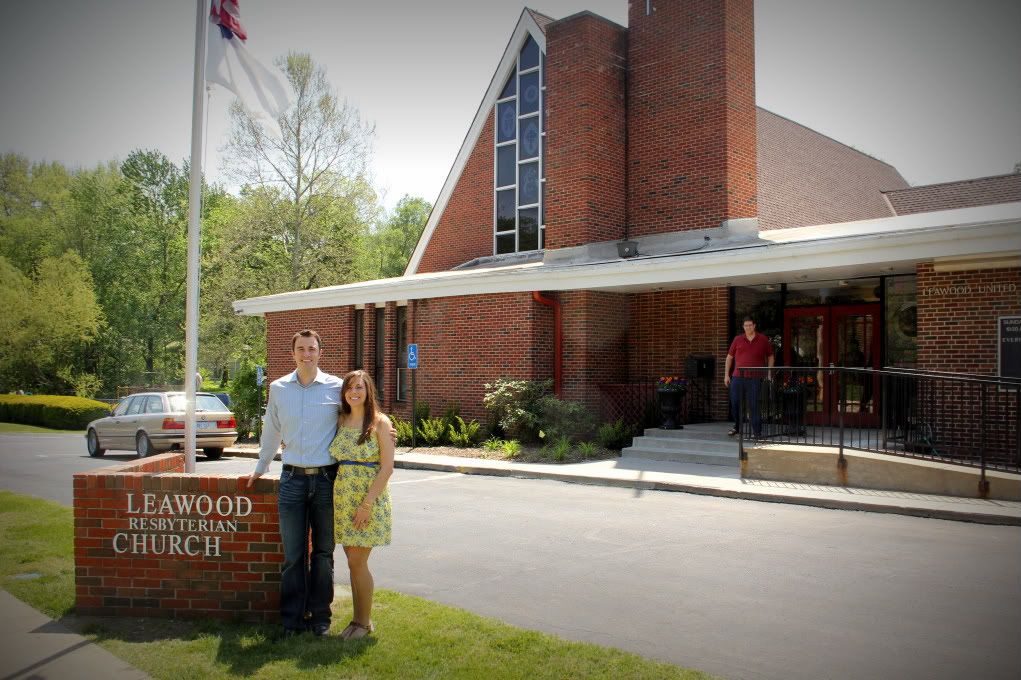 Right after church and becoming new members.
There are two things I love about this picture:
One- Jim standing randomly in the background
Two- That the "P" is missing from Presbyterian on the brick wall we are standing next to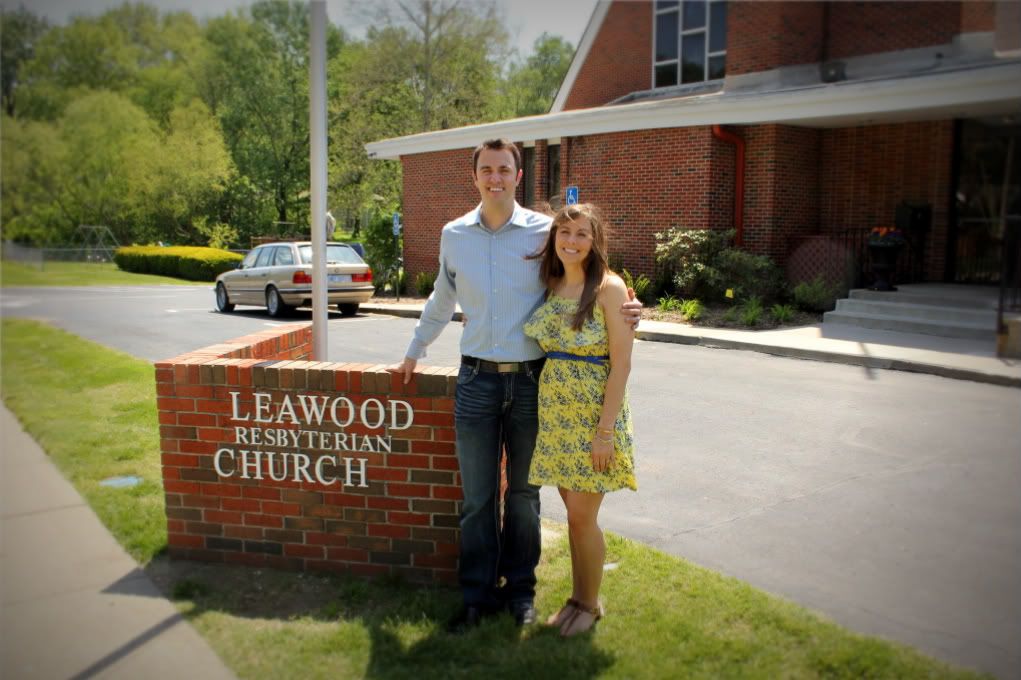 Close up shot. It was windy!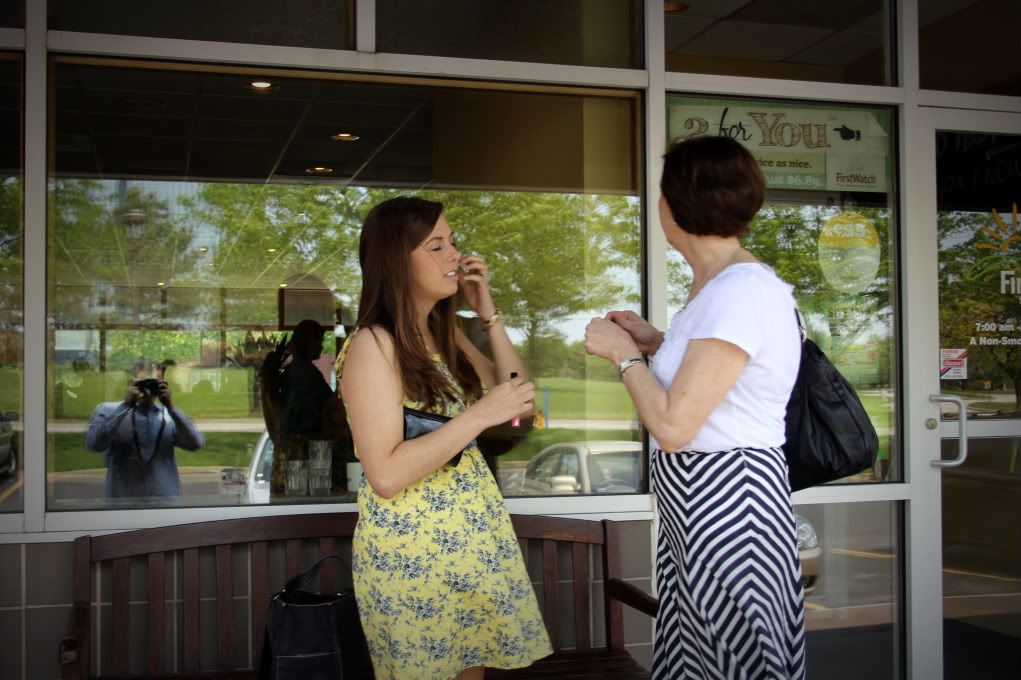 At First Watch trying to get ready for a picture but Ryan decided he wanted to start snapping early.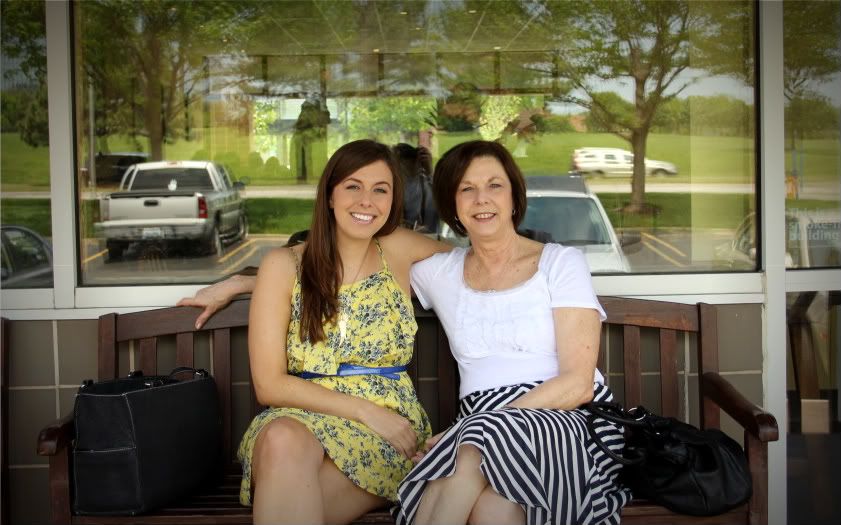 Much better. Daughter & Mom