I like to call this... Cherry Cheesecake Delight!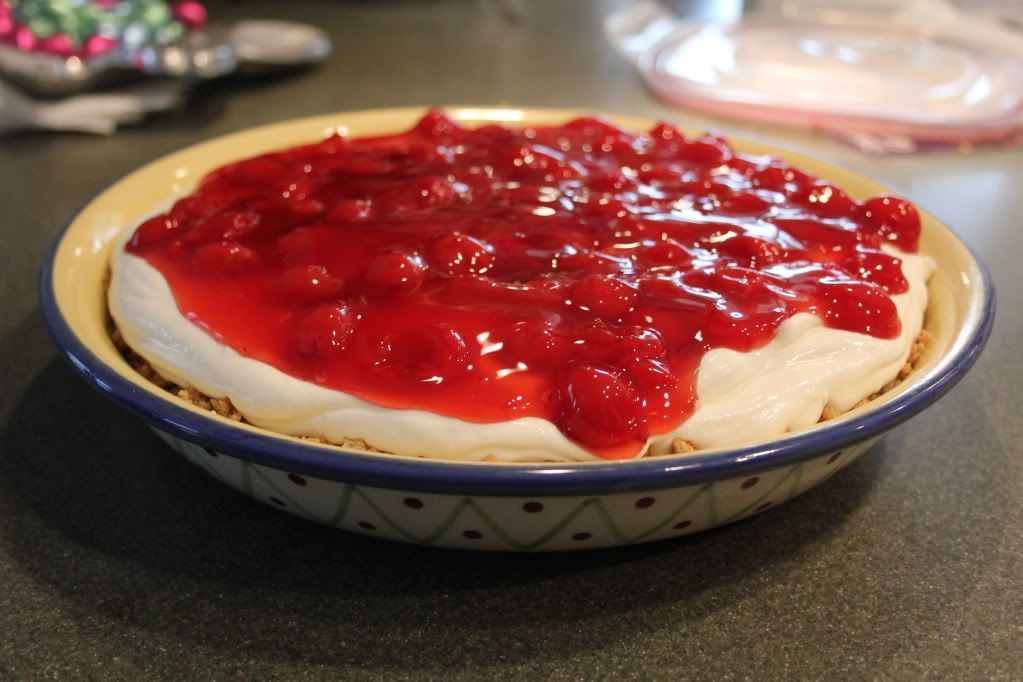 This is one of my hands down favorite desserts my mom used to make me. I even asked Ryan to make it for me on my birthday the first year we were married. I love cheesecake but sometimes it can be too heavy, ya know? That's why I love this one so much! It's so light I could eat the whole thing in one setting.
It's been awhile since I've made it. Luckily, one of my coworkers birthdays was today and he requested a cheesecake. This recipe immediately jumped to mind. It's a must try people!! So without further ado here is the to-die-for recipe courtesy of my mom.
Cherry Cheesecake Delight
Ingredients for the Easy Peasy Crust:
1 Pkg. Graham Crackers
1/4 Cup Sugar
1/2 Stick of Butter
Ingredients for the Easy Peasy Filling:
1 Large Pkg. Dream Whip
1 1/2 Cup Powdered Sugar
8 oz. Cream Cheese
1 Can of Cherry Pie Filling (or whatever you want to use)
Easy Peasy Directions:
Crunch up the graham crackers into little crumbs. You could probably find already crunched up graham crackers in the store to save you time. Add in the sugar and butter for the crust and mix well. You are probably going to have to melt the butter first so it mixes easily. Then put the mixture into the bottom of your pie pan and spread out evenly.
Then whip the Dream Whip according to the directions on the package. Whip in powdered sugar & cream cheese until smooth. Spread over graham cracker crust evenly. Top with cherry pie filling (or whatever your choice). Place in the refrigerator until ready to serve.
Enjoy!
Mmmmm.... is your mouth watering yet?